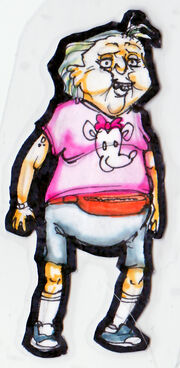 Cathy Lubitsch is a resident of Orlando, Florida. She resided for many years in a trailer on Sidneyville property where she also worked. Through her work, she made friends with Carmen McKenzie, mother of Hoppity McKenzie. She has little other social life and is single, though she briefly courted wealthy restauranteur, Arnold Begley, founder of the Gladbellys chain of fast food restaurants before he died of a stroke. She has an unnatural fondness for all things Sidneyville.
Ad blocker interference detected!
Wikia is a free-to-use site that makes money from advertising. We have a modified experience for viewers using ad blockers

Wikia is not accessible if you've made further modifications. Remove the custom ad blocker rule(s) and the page will load as expected.