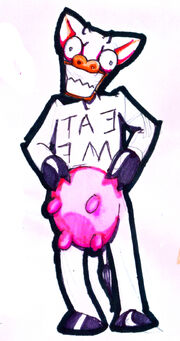 Eat Me Cow is a generated toon suffering from the late stages of ether degeneracy. He is the spokescow for a successful chain of fast food restaurants, the Eat Burger. He resides in Orlando, Florida, where he unsettles the town's residents. He is close friends with Pig and Cheesy Sauceovich. He was briefly addicted to heroin, has been partially eaten on numerous occasions, was once hospitalized after a pounding at the hooves of a herd of 'roid raging heiffers, and was blown up at least once.
Ad blocker interference detected!
Wikia is a free-to-use site that makes money from advertising. We have a modified experience for viewers using ad blockers

Wikia is not accessible if you've made further modifications. Remove the custom ad blocker rule(s) and the page will load as expected.