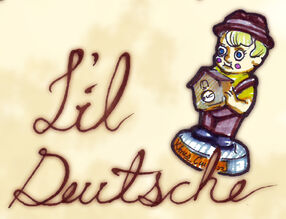 Li'l Deutsche figurines are a series of overpriced Teutonically-themed collectible ceramic figurines. A number of Smilocide characters are notable collectors of Li'l Deutsche figurines including Carmen McKenzie, Terry Land, Ruby Land, Tall One, and Piggy One.
Known Li'l Deutscher figures include Fitz Firecracker, Claus Cuckoo, Greta Goose-holder, Hilda Heavypants, and Max Braun.
Ad blocker interference detected!
Wikia is a free-to-use site that makes money from advertising. We have a modified experience for viewers using ad blockers

Wikia is not accessible if you've made further modifications. Remove the custom ad blocker rule(s) and the page will load as expected.