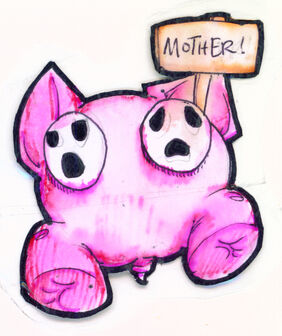 Diblot, referred to as Piggy One, is one of the eggettes in Toxic Tampa Bay. Her backstory is given as being a member of the foodservice industry until her cowardice during an attack on Smuirlat by Flatnote causes her to be ostracized, compelling her to join the Evlion Air Corps. She notably collects Li'l Deustche ceramic figurines which helps her to identify with Tall One, with whom she forms a bond. She is executed with the other Eggettes by Chanterelle and May.
Ad blocker interference detected!
Wikia is a free-to-use site that makes money from advertising. We have a modified experience for viewers using ad blockers

Wikia is not accessible if you've made further modifications. Remove the custom ad blocker rule(s) and the page will load as expected.