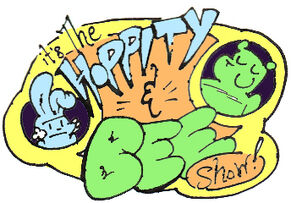 The Hoppity and Bee Show names both the short-lived series starring Hoppity and Bee aired on Orlando public access, and the real-life even-shorter-lived paper comics and upcoming web-comics series presenting the adventures of Hoppity and Bee as the world crumbles around them.
The Hoppity and Bee Show within the series
Edit
The Hoppity and Bee Show was produced by
Gil Donell
at
Relentless Studios
for public access television. It was directed by
Vic de Schmitthedde
and also features cartoons starring
Snake
and
Pig
, whose show had just been canceled and whose timeslot tH&BS replaced..
The Haggis
writes for the series. It was canceled after 2 1/2 years. Ostensibly a production catastrophe, it was actually a means by which the demonically motivated Donell exposed Hoppity and Bee as the subjects of the M Prophecy to the evil agents of the world.
The Hoppity and Bee Show, the real-life series
Edit
The Hoppity and Bee show tells the story of seven years in the lives of a large cast of characters, particularly Hoppity and Bee, in the last days of civilization on earth and the Supirion system.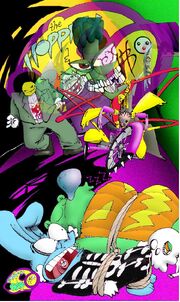 Ad blocker interference detected!
Wikia is a free-to-use site that makes money from advertising. We have a modified experience for viewers using ad blockers

Wikia is not accessible if you've made further modifications. Remove the custom ad blocker rule(s) and the page will load as expected.